With the market's higher requirements for the performance and life of valves, automated production has become a new choice for valve manufacturers.
A valve manufacturer specializes in the research and development and production of valve parts; the valve in this case is used in the fire protection system of a bank, which requires high stability and consistency. Through the optimization of the manufacturing process and the the automatic production system, the stability of the production capacity is guaranteed.
|Customer's requirement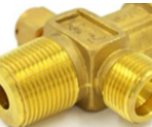 ● The automatic unit realizes automatic loading and unloading production without stopping
● Cooperate with 3 indexing chuck CNC lathes and 1 drilling machine to realize one-to-four processing
● The tooling and gripper jaws realize precise positioning and the function of unloading in-position detection
|聯達解決方案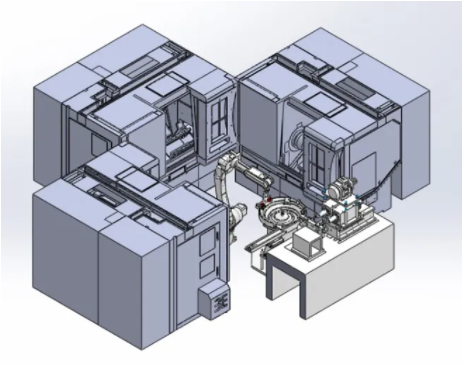 ● U-shaped configuration
-3 lathes are placed in U-shape, the silo and the drilling machine are placed in front, and the manual maintenance aisle is reserved at the same time
-The robot with 10KG payload and max reach of 1598mm cooperates with a vibrating plate for loading and unloading

-The robot adopts three fingers and two gripper jaws to realize instant switching between blanks and finished products
-High-precision sensors are added to the end of the robot to detect the placement of parts
Quick response of machine and robot
-Machine tool adopts SYNTEC 6TA system, and uses the high-precision spindle positioning function to realize the angle positioning of the indexing chuck.
-Machine tools and robots can communicate quickly via SYNTEC's NetPLC function
-Abnormal detection and alarm function to ensure the stability of processing
-Cooperate with SYNTEC cloud monitoring to realize workshop dashboard and lean production management

|Advantage

● One-stop solution for intelligent processing:LEANTEC RobotCells support pick and place, inspection, tool compensation and cloud system.
● Increase efficency and lower costs:Realize the goal of one-time investment, one-year return, and life-long useage.
● Safe and reliable:With safety detection and protection mechanism to avoid potential safety hazards.
After the introduction of the automatic production, manpower is reduced, and one person per shift is reduced by one set of automatic units. The addition of the robot arm avoids the unstable processing caused by the clamping deviation, improves the stability of the product, and realizes 24-hour non-stop production, which helps move toward lean production.